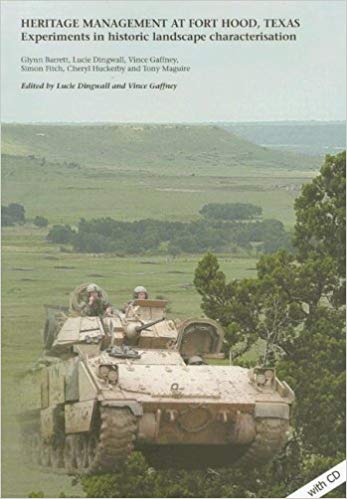 Download Sample PDF
H 297 x W 210 mm
136 pages
83 figures, plates, maps, plans, drawings and photographs (60 in colour); 27 tables; with CD
Published Apr 2007
ISBN
Paperback: 9781905739110
Keywords
club; Hercules; hero cult; hypogeum; portico; Pola; sacrificial pit; sanctuary; temple; water source; well
Archaeopress Roman Archaeology 40
Heritage Management at Fort Hood, Texas: experiments in historic landscape characterisation
By Glynn Barrett, Alka Starac, Lucie Dingwall, Vincent Gaffney
Paperback
£19.99
Includes PDF
PDF eBook
(personal use)
£16.00
PDF eBook
(institutional use)
£32.00
Carried out as an international collaboration between the Fort Hood Cultural Resource Management Team and the Institute of Archaeology and Antiquity (University of Birmingham, UK), this project provides a novel application of historic landscape characterisation (HLC) methodologies at the base.
Contents
Chapter 1: Introduction ;

Chapter 2: The Late Republican sanctuary – The Hercules sanctuary area before the foundation of the Roman colony ;

Chapter 3: Hercules, hero and protector of the source – Sacrificial offerings at the time of the construction of the sanctuary ;

Chapter 4: Plan of the sanctuary of Hercules – Models and interpretation ;

Chapter 5: Architectural decoration ;
Introduction ;
I. Architectural elements found in the archaeological excavations in the St Theodore Quarter in Kandler street (Block XVI, Location XI) 2005-2009 ;
II. Architectural elements from the Roman collection of the Archaeological Museum of Istria found before 2005 ;

Chapter 6: Construction of Hercules' sanctuary – Economical aspects, import of amphorae and senatorial dynasties ;

Bibliography
About the Author
Alka Starac has worked in the fields of Roman archaeology, epigraphy, history and economy since defending her PhD dissertation Roman rule in Histria and Liburnia'in 1996 at the University of Zagreb. She has published more than eighty scholarly papers in international archaeological publications, ten monographs (either as author or editor) and has worked on several archaeological exhibitions dealing with Roman Istria.